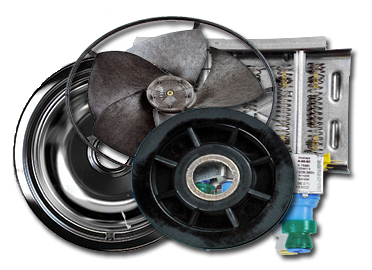 Although we would love to repair your appliance for you, we understand that some of our customers enjoy doing the job themselves. Good for you! We take pride in having the largest selection of original equipment manufacturer parts (OEM) in the United States, to make sure you can get the job done right.
Our goal is to provide our customers with access to more than five million appliance parts in Santa Fe, NM. Browse parts by appliance or search for exactly what you need by model, part number or description. All our parts can be shipped directly to your doorstep as soon as you need them.
Visit our online appliance parts store or call our hotline at 866-334-6981 to talk to one of our representatives about what you're looking for.
Appliance Parts in Stock
Accessories
Dishwasher parts
Dryer parts
Freezer parts
Garbage disposal
Icemaker parts
Microwave parts
Range parts
Refrigerator parts
Room air conditioner parts
Trash compactor parts
Washer parts
Water heater parts
Whether you're looking for common washing machine parts or you need hard-to-find refrigerator parts in Santa Fe, NM, rest assured we've got what you're looking for or we can help you locate and obtain the part you need!
Need Help Finding a Part?
Fill out the form located on the online parts shop site or call our hotline at 866-334-6981 to talk to one of our representatives. Providing you with the parts to fix your appliance is our number one concern. If the part you need is not available, we will do our best to find the closest piece we have to make your repair possible.
Give us a call or text us today at 505-690-6700 or visit our online parts store!